So by now you've realized that your protection Paladin has about 6-7k mana unbuffed at level 80, and all of your abilities for tanking but the average melee swing, require mana. So let's go over a way to keep your mana pool alive and full so your not having to sit for mana after each pull.
With this discussion I will go over some basic talent tree specc'ing for your mana regen, as well as your Paladin's Seals and Judgements.
Lets touch basics first, your talent tree. If you tab over to the Protection tree on the 1st column 7th Tier down you will have the passive talent called, Spiritual Attunement

Having 2/2 on this passive is highly recommended for your Protection Paladin because instead of just giving you equal to 5% mana back for the amount healed, having 2/2 will increase that by another 5%, giving you equal to 10% of the amount healed. It may not mean much of a difference. But for tanking with a Paladin you need your mana!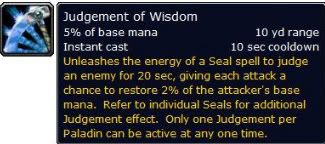 The next ability your Paladin has to regen mana is your Judgement of Wisdom, this is a must have when it comes to your 9696 Rotation as explained in my previous tanking guide. This will help you keep your mana up during some of those weaker mob pulls.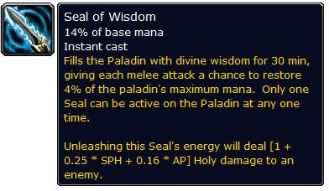 Last, but not least is the type of Seal your using during pulls.  Now, depending on the size the pull, keep this in mind, Seal of Wisdom for single target pulls, and one of your other Seals for bigger pulls, like Seal of Vengeance.
I hope this gives you a better understanding on how to preserve that 7k manapool.
Good luck and Tank Hard!